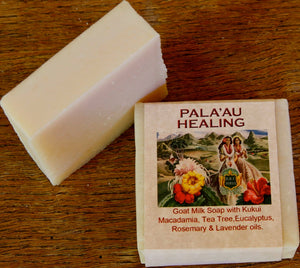 rainbowridgefarm
Pala'au Healing Goat Milk Soap
Regular price
$9.95
$0.00
Unit price
per
Aloha! This is a wonderful soap for all skin types. It is especially good for teenage, menopausal, or sensitive skin as it has essential oils believed to be antiseptic, healing, and nourishing. This scent is very refreshing with green smelling eucalyptus, earthy rosemary and fresh cut lavender. There is a hint of vanilla and musk. A proprietary blends of 8 essential and botanical oils.
($8.15 Shipping on any Quantity of Rainbow Ridge Farm Products ordered)
Fragrance Strength: Medium
4.5oz
Ingredients: Saponified coconut oil, palm fruit oil, olive oil, goat milk, canola oil, soybean oil , kukui oil, Hawaiian Mamaki tea, natural and essential oils.
---