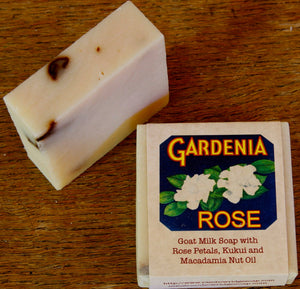 rainbowridgefarm
Gardenia Rose Goat Milk Soap
Regular price
$9.95
$0.00
Unit price
per
Mohala i ka wai ka maka o ka pua ~ Unfolded by the water are the faces of the flowers.
A beautiful floral fragrance with deep exotic tones of jasmine, floral apple, strawberry and grape. Heart notes of gardenia, lilac, rose, hyacinth and narcissus. Base notes of balsam, amber musk, woods and violet. Organic dry rose petals lace this richly scented bar. A proprietary blend of 14 essential and botanical oils.
Fragrance Strength: Medium

4.5oz
Ingredients: Saponified coconut oil, palm fruit oil, olive oil, goat milk, canola oil, soybean oil , kukui oil, natural and essential oils.

($9.75 Shipping on any Quantity of Rainbow Ridge Farm Products ordered)
---