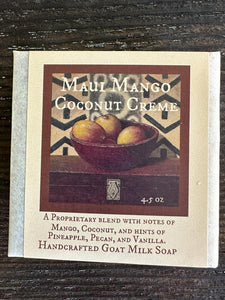 rainbowridgefarm
Maui Mango Coconut Cream
Regular price
$9.95
$0.00
Unit price
per
Indulge in our luxurious, handcrafted goat milk soap, a true masterpiece of scents that transport you to a tropical paradise. Our proprietary blend weaves together the alluring aroma of ripe Mango, the rich creaminess of Coconut, and subtle hints of sun-kissed pineapple. Beyond this, you'll discover the inviting undertones of pecan and vanilla, adding depth to your sensory journey.
Our Fragrance Strength: Medium
Each bar weighs 4.5 ounces and is meticulously crafted with love and care. 
The result is a soap that stands as a testament to the art of artisanal soapmaking, with a scent profile that truly captivates the senses. Embrace the serenity and indulgence of our exquisite blend and elevate your bathing experience to a whole new level.
[$9.75 Shipping on any Quantity of Rainbow Ridge Farm Products ordered]
---